September 21, 2022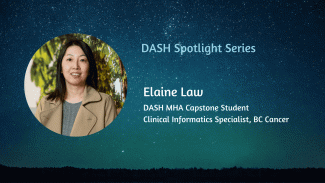 Meet our DASH community
DASH is featuring our members and trainees on our newsletter and website to explore the various expertise, interests, and background that each of us brings to our data science and health community.
---
Name:
Elaine Law
Title and Affiliation:
Clinical Informatics Specialist
BC Cancer
Role in DASH:
MHA Capstone Student
---
Please introduce yourself.
I am a Medical Laboratory Technologist specializing in Cytogenetics by background but in the last 2 years I have taken up a role as a Clinical Informatics Specialist at BC Cancer. I was involved in the implementation of the Clinical Transformation System (CST) Cerner at BC Cancer Vancouver for the Clinical Trials Unit and became part of the sustainment team. Currently, I am working towards my MHA degree.
What is your role in DASH? What do you hope to achieve through DASH?
As part of my MHA Capstone project, I am collaborating with DASH to understand the data access request (DAR) process at health authorities in BC. The goals of the project include developing research algorithms for DAR and identifying the challenges researchers experience when navigating through this process. It has been a privilege for me to work with the talented and dedicated people at DASH and I hope this project will inform future directions for harmonizing health data access in BC.
What is your favourite travel destination and why?
My favourite destinations are places where I can see and observe penguins. I have fallen in love with the animal ever since the movie March of the Penguins. Prior to the pandemic, I visited the Falkland Islands and was able to get really close to the King penguin and Gentoo penguin colonies. Watching penguins play with each other and raise their chicks was truly an unforgettable experience. I hope that someday I would be able to see Empire penguins up close.
---