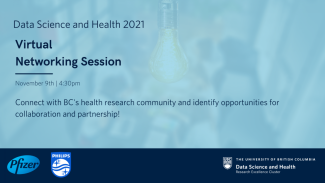 Data Science and Health 2021 Virutal Networking Session
November 9th | 4:30pm - 5:30pm (PST) | Virtually through Gather Town
Our Virtual Networking Session is an opportunity for BC's health and engineering research communities to create connections, share ideas, and foster potential collaborations. All researchers, students, faculty, staff, and health administrators are welcome to attend. Pfizer and Philips will be present as leading industry representatives in the field of health research and innovation.
Registration is free for all interested individuals.
*No additional registration is required for participants of UBC CPD Data Science and Health 2021. This Networking Session will be held directly following the Live Zoom Conference, and instructions for attending this event will be given during this time.
---
What is Gather Town?
Gather Town is a virtual world that mimics in-person conferences. Each participant will have an avatar that can freely move around the virtual space, and as you get close to other avatars, a video chat screen will pop up to allow live conversations. These can be one-on-one or in small groups. You can also visit the virtual booths and interact with our industry representatives. 
Staff and volunteers will be available to help navigate through the platform during the event. Instructions for accessing our Networking Session space will be provided to the registrants.